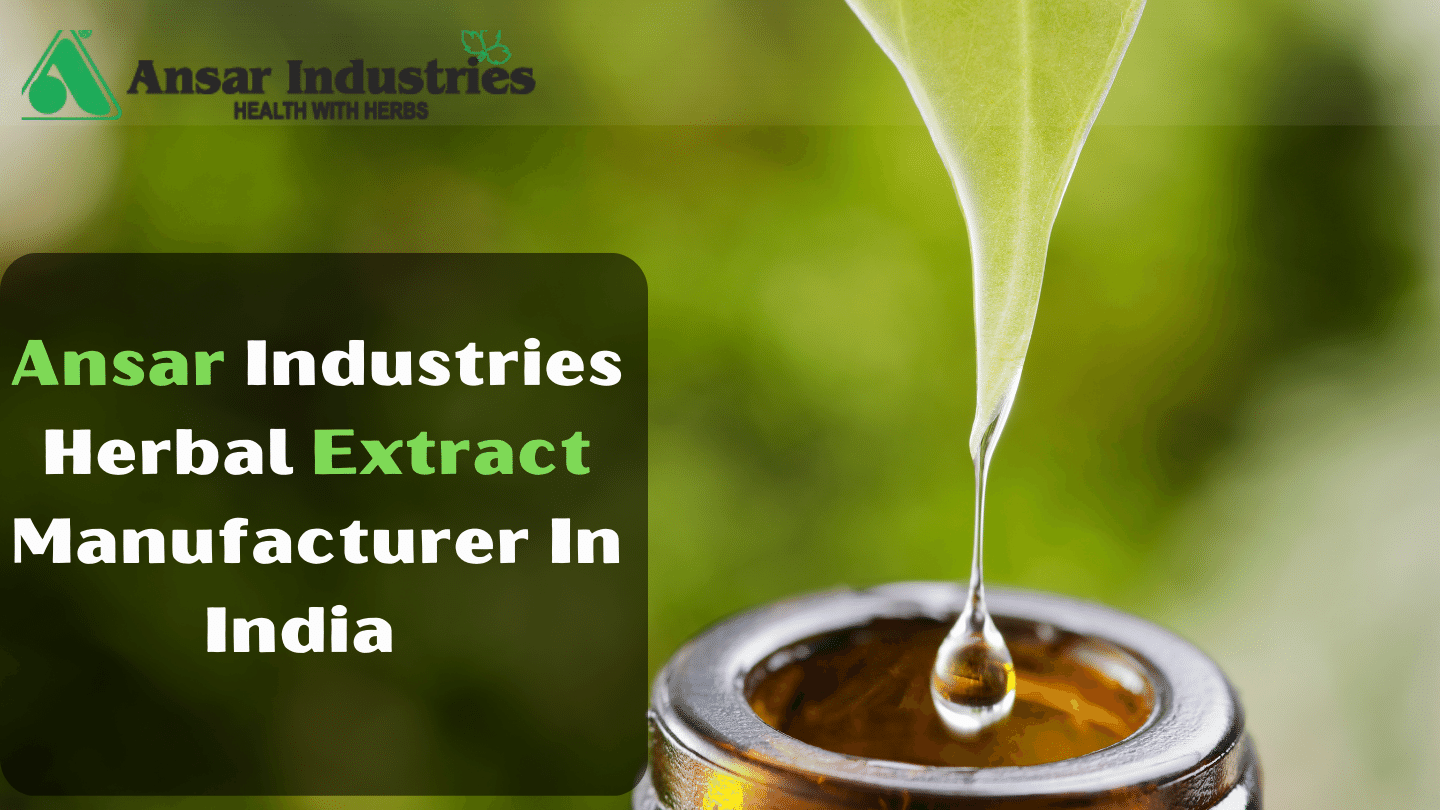 Ansar Industries is a well-known
herbal extract manufacturer in India
that offers
high-quality herbal products In India
at competitive prices. With over two decades of experience in the industry, Ansar Industries has established itself as a reliable
supplier of herbal extracts In India
to clients worldwide.
In this blog, we will explore the various aspects of Ansar Industries and how it has became a leading
herbal extract manufacturer in Gujarat,India.
Herbal Extracts - A Growing Industry
The
herbal extract industry
is growing at a rapid pace, driven by the increasing demand for natural and organic products. With the rise in health-consciousness and awareness about the benefits of natural remedies, consumers are turning towards
herbal extracts
for their medicinal and nutritional properties.
Ansar Industries has been quick to recognize this trend and has focused on developing high-quality herbal extracts that meet the growing demand of the market.
Range of Products Offered by Ansar Industries
Ansar Industries offers a wide range of herbal extracts that are derived from various plant sources. These include extracts from Aloe Vera, Ashwagandha, Brahmi, Garcinia Cambogia, Ginger, Green Tea, Guduchi, Gymnema Sylvestre, and many more.
The company's production facilities are equipped with state-of-the-art machinery and technologies that ensure the highest quality standards are maintained throughout the manufacturing process.
Quality Control Measures
At Ansar Industries, quality control is taken very seriously. The company has implemented stringent quality control measures to ensure that all its products meet the highest standards of purity and quality.
Exporting to Global Markets
Ansar Industries has a strong presence in the global market and exports its products to various countries around the world. The company's commitment to quality and timely delivery has earned it a reputation for being a reliable supplier of herbal extracts in the global market.
Sustainability
The company is committed to sustainable practices and has implemented various measures to reduce its environmental footprint. Ansar Industries uses eco-friendly packaging materials and implements water and energy-saving measures in its production facilities.
Customer Support
Ansar Industries has a strong focus on customer support and provides personalized service to its customers. The company has a dedicated team of customer support representatives who are available to answer any queries and resolve any issues that customers may have.
Industry Certifications
In addition to the certifications mentioned earlier, Ansar Industries has also obtained certifications from various industry bodies such as the Indian Spice Board and the US Food and Drug Administration (FDA). These certifications attest to the company's commitment to quality and regulatory compliance.
Collaborations
Ansar Industries collaborates with other companies in the industry to share knowledge and expertise, and to develop new products and solutions. These collaborations have helped the company stay at the forefront of the industry and provide innovative solutions to its customers.
Expertise
Ansar Industries has over two decades of experience in the herbal extract industry, and its team of experts has extensive knowledge of various plant sources and extraction methods. This expertise allows the company to develop high-quality products that meet the specific needs of its customers.
Flexibility
Ansar Industries is known for its flexibility and ability to provide customized solutions to its customers. The company works closely with its customers to understand their requirements and develop products that meet their unique needs.
Competitive Pricing
Ansar Industries offers its products at competitive prices without compromising on quality. The company's state-of-the-art production facilities and efficient processes allow it to keep its costs low, enabling it to offer its products at affordable prices to customers.
Timely Delivery
Ansar Industries understands the importance of timely delivery and has implemented efficient logistics and supply chain management systems to ensure that its products reach its customers on time. The company's commitment to timely delivery has earned it a reputation for reliability and customer satisfaction.
Industry Trends
Ansar Industries stays up-to-date with the latest industry trends and developments and adapts its products and processes accordingly. The company's ability to anticipate and respond to changes in the market has helped it maintain its position as a leading herbal extract manufacturer in India.
Research and Development
Ansar Industries places a strong emphasis on research and development to continuously improve its products and stay ahead of the competition. The company has a team of experienced researchers who work closely with customers to develop customized solutions that meet their specific needs.
Innovation
Ansar Industries is committed to innovation and continuously explores new extraction methods and plant sources to develop new and improved products. The company's focus on innovation has helped it develop unique products that set it apart from its competitors.
If you're looking for a reliable
supplier of herbal extracts
, look no further than Ansar Industries! Visit Our website
www.ansarindustries.com
or
Contact us
today to learn more about our products and services.
In conclusion, Ansar Industries is a leading herbal extract manufacturer in India that has established itself as a reliable supplier of high-quality products in the global market. With a wide range of products, stringent quality control measures, and a commitment to customer satisfaction, Ansar Industries is well-positioned to meet the growing demand for herbal extracts.